Blurry look of programs on your high display screen
My new ThinkPad T460s is lighter (1.4kg instead of 1.8kg), thinner and has more memory (20Gb) than my previous one (T430s). It has a much better screen with 1920 x 1080 pixels. This last feature is nice, but some of my programs get a fuzzy look as they are not yet adapted to this kind of display.
For example, Evernote is not ready for scaling on high DPI settings. If you look in the discussions on this issue, for programmers this seems to be a rather daunting task. Evernote explicitly does not promise anything in that direction (and it is an issue since 2013…).
The problem is resolved quite easily (although you probably have to do it again after updating the program):
search for the executable on your computer (in this case Evernote.exe)
right click on the file name and choose properties
in "properties" choose "compatibility" and (if the program is set up for all users), choose "Change settings for all users" and click on "Disable display scaling on high DPI settings".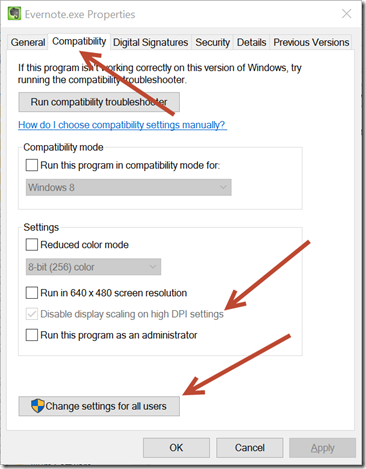 Afterwards, your Evernote (or other programs with the same problem) are crystal clear again.